Strengthening the Foundation for Students' Futures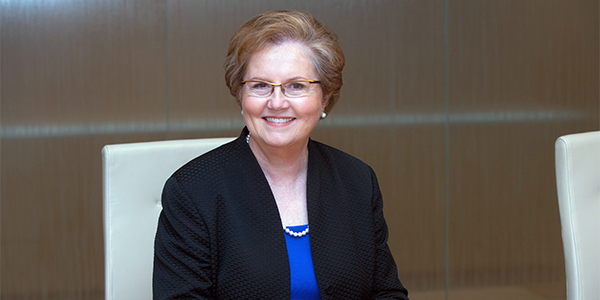 Pat Armstrong '70 credits her Illinois Wesleyan experience for preparing her for a successful career and lifelong appreciation of the arts. The breadth and depth of the learning she did while on campus provided the foundation for everything that followed, she says.
A senior director who will retire in June from wealth management firm Abbot Downing, Armstrong is continually thankful for her IWU education.
And she's given back to her alma mater so that others can pursue the same.
"I believe in a liberal arts education, and I think Illinois Wesleyan does it very well," Armstrong says. "So supporting the University in any way I can to carry on that mission is something that is important to me."
Armstrong served IWU as a member of its Board of Trustees from 2004-11. She's been a loyal and generous donor for many years, and her giving reflects her passion for broad-based learning. She's supported a variety of programs and initiatives that are as wide-ranging as the education she received while a student at IWU.
She helped fund space for the Psychology Department within IWU's Center for Natural Science, provided study abroad scholarships and sponsored a Promise Scholarship benefiting theatre arts scholarships. Most recently, she's supported Illinois Wesleyan's partnership with Posse and the recently launched Animal Studies First-Year Experience.
"I try to listen to University representatives about needs," Armstrong says. "And I'll support them as long as they are consistent with the idea of fostering opportunity."
Educational and experiential opportunities, Armstrong says, are what make an Illinois Wesleyan experience.
"I've tried to support opportunities for foundational experiences that people can use to pursue their careers," she says. "Because my Illinois Wesleyan educational was foundational to everything I've done since."
You can build a bright future for IWU students with a gift in your will or other long-term plan. To learn about making a gift that reflects your passions, just as Pat Armstrong has done, contact Steve Seibring '81 at 309-556-3135 or [email protected].