Giving Back for Generations of Affinity for IWU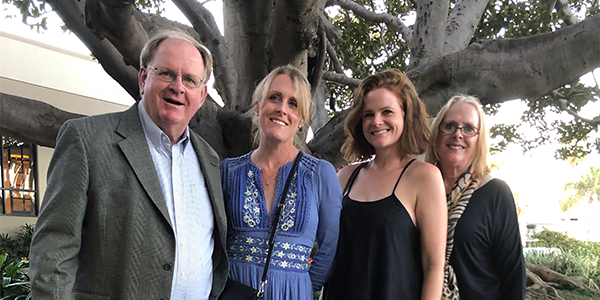 When visiting family in St. Louis, Tom '70 and Marilyn (Thies) Neis '71 would pack up the family car and make the journey down Interstate 55 from their suburban Chicago home. Tom and Marilyn's alma mater of Illinois Wesleyan provided a convenient halfway point to get out and stretch their legs.
And walk around campus.
And share some stories.
And (ever-so-subtly) provide recruiting pitches to their young daughters.
"I remember getting tours of campus when I was a baby," Melissa Neis '02 says, laughing. Illinois Wesleyan has been a special place for the family. It actually started when Tom's great aunt, Jeanette Neis Sorenson, encouraged him to follow in her footsteps and attend IWU. "We seem to have followed in a line," Tom says. "We've had other family and cousins come here. It's been a long train of association."
Staying Connected
Tom and Marilyn's association with IWU has gone far beyond those pit stops on family trips. They've remained connected in innumerable ways: Tom as a member of IWU's Board of Trustees; he and Marilyn with the Alumni Association Board and various advisory boards; Marilyn with the Council for IWU Women; and both with Greek life.
And the Neises have given back more than just their time. They have been consistent donors to IWU for a half century, via the Wesleyan Fund, several different scholarships, Council for IWU Women, program support, a lead gift to benefit IWU's soccer teams and establish Neis Field, as well as a planned estate gift.
Illinois Wesleyan has meant many things to the Neises. It's been a place for family. A place for friends. A place to connect with others. A place to reconnect.
And reconnecting with friends and classmates is what Tom is most looking forward to when he returns to campus this fall for his 50-year reunion.
"I was involved in all kinds of things at Illinois Wesleyan, student commissions, student senate, all of that," he says. "But there is an involvement at Illinois Wesleyan when you're here that continues long afterward."
Pass It On
Like the Neises, you can make a gift to IWU in your will or other estate plan to support what matters most to you. Contact Steve Seibring '81 at 309-556-3135 or sseibrin@iwu.edu to learn about your giving options.