Jarvis Makes Leadership Gift to School of Nursing Campaign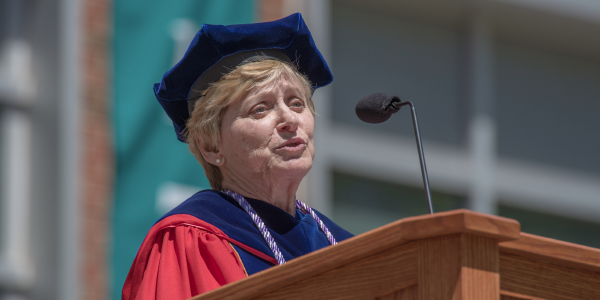 Thanks to a generous leadership gift by nursing professor Carolyn Jarvis and support from the entire faculty and staff of the School of Nursing, the $2.2 million Redesigning the Future campaign was successfully launched at the Homecoming nursing breakfast.
Funds raised for the campaign will be used to reconfigure classrooms and laboratory spaces at Stevenson Hall in response to the doubling of the School of Nursing's enrollment over the past 10 years and the increasing use of technology and simulations in nursing education.
"This growth is a testament to the School of Nursing's excellent program, its fine faculty and staff and the success of graduates like those here today," said President Richard F. Wilson to those gathered for the annual Homecoming breakfast.
To honor Jarvis, the garden level of Stevenson Hall will be reconfigured and named The Jarvis Center for Nursing Excellence. The health assessment lab that will move to the garden level will be named The Jarvis Health Assessment Lab. Jarvis, an internationally recognized authority in health assessment, is the author of North America's most widely used health assessment textbook: Physical Examination and Health Assessment, which is in its seventh edition and has been translated for use around the world.
The Jarvis Center will simulate clinical environments by consolidating and expanding all nursing labs with the simulation suite, currently located on the garden level. The simulation suite will also be expanded to two rooms that will include both adult and pediatric high-fidelity simulation manikins. Adding to the clinical environment will be a medication room, home healthcare room, nursing station and student study area and lounge.
"The Redesigning the Future campaign will enable us to create a learning center that integrates assessment, skill acquisition and simulation in one comprehensive manner," says Victoria Noltkamper Folse '86, Director and Professor of the School of Nursing and the Caroline F. Rupert Endowed Chair of Nursing.
In addition to the garden level changes, first-floor classrooms will be reconfigured to accommodate larger class sizes, which have grown to 48 students. Currently, only one of the three existing first-floor classrooms is large enough to accommodate a full class of nursing majors. The additional classroom space will come from moving labs, which are currently comingled with classrooms on the first floor, to the new Jarvis Center on the garden level.
The changes at Stevenson are planned to begin next spring and should be ready for the fall 2016 entering class. To learn more about the campaign or to make a donation, contact Steve Seibring '81 at 309-556-3135 or [email protected].