Remembering Illinois Wesleyan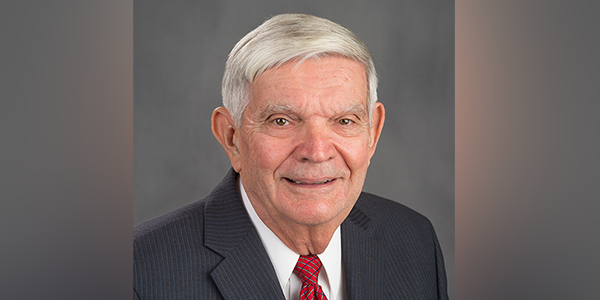 This year marks the 60th anniversary of Bob Lewis' graduation from Illinois Wesleyan, and it also marks 60 years since Bob's first gift to IWU.
Remarkably, Bob has made a gift to IWU every year since his graduation on June 3, 1956. It's a habit he developed for a simple reason.
"My parents taught me to know what's important in life and support it," Bob says.
After graduating from high school, Bob found a job at Caterpillar in Peoria, working for two months before the plant went on strike. That shutdown proved pivotal because Bob then decided he'd go to college. At an IWU college fair, Bob picked up a pamphlet from State Farm Insurance. Working for State Farm was his ultimate goal, and he thought going to IWU in State Farm's backyard was a smart move. More important, however, was the scholarship IWU proposed to match the offer Bob had received from Eureka College.
While still a student, Bob went to work with the night crew at the State Farm warehouse. After graduating with a degree in business administration, Bob joined State Farm in life underwriting, eventually moving to six regional offices in as many states. He retired in 2000 as a Life/Medical Consultant after 48 years of service—a company record.
Bob urges other IWU alumni and friends to remember Illinois Wesleyan for their charitable giving—whether it's through annual giving as Bob has done for 60 years or through charitable gift annuities or other estate planning.
Contact Steve Seibring '81 at 309-556-3135 or [email protected] to learn how you can make an impact at IWU like Bob has for the past 60 years.