Finding Joy in Giving Back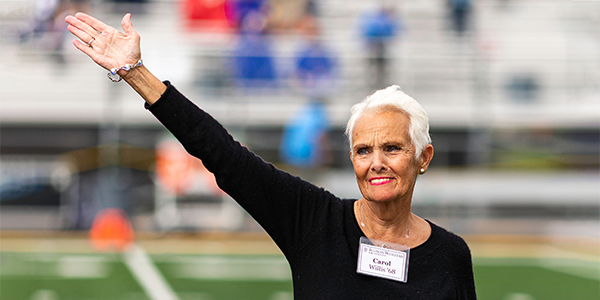 Carol Willis '68 never got to be the star player. She never even got to be on the team.
Growing up in a time when opportunities for girls to participate in high school athletics were somewhere between scarce and nonexistent, Carol had to watch from the sidelines.
Fast forward 50 years and Carol is finally part of the team.
Through her support of women's athletics, Carol is as familiar a figure in IWU athletics as anyone else these days. You'll find her in the stands, watching practice, or visiting coaches and support staff in the Shirk Center.
"This has given me purpose in life," Carol says, tears welling up in her eyes.
Carol's support of IWU athletics started when she learned of a need for new women's locker rooms. When she connected with IWU Athletic Director Mike Wagner to discuss the project, she learned Wagner was in possession of funds to refurbish the men's locker rooms, but refused to move forward until he could also begin work on the women's locker rooms.
"I got a little emotional when Mike told me that," Carol said. "Because that's one thing I can say for sure: There is 100% equality between men's and women's athletics here at Wesleyan."
Carol's connection to IWU athletics has only grown as she's gotten to know the coaches, staff and student-athletes. She's been particularly supportive of the Titan softball team and played a leading role in funding a new pitching and hitting facility adjacent to the field, and later, a renovation of the field.
Her support was recognized when the field was rechristened as Inspiration Field at Carol Willis Park in 2021, in a moment Carol calls "one of the highlights" of her life.
"Carol is a trailblazer in terms of providing first-class opportunities for women and girls involved in sport," said IWU Head Softball Coach Tiffany Prager. "Every student-athlete, coach and athletic administrator within the footprint of our campus community has been positively affected by Carol's generous heart."
Carol's support of Illinois Wesleyan happens on multiple levels. She has included Illinois Wesleyan in her estate plan, and she is able to see the impact of her support immediately by also contributing to present initiatives. Now at an age where she is required to withdraw funds from her individual retirement account (IRA), she is able to direct those withdrawals—known as required minimum distributions (RMDs)—to a qualified charitable organization, such as Illinois Wesleyan University, without paying taxes.
Carol hopes others can be inspired the same way she has been. If she has the chance to encourage them to support IWU, she has one simple bit of advice.
"I would tell them to do it while they're still alive," she said. "That way you are still around to see the good you are doing."
Carol cites her case as a prime example. She takes no greater joy in life than seeing the smiles on faces of young women participating in athletics. Providing opportunities she didn't have gives her purpose.
"You get to an age where you ask yourself what you are going to do with the rest of your life," Carol said. "It's not often you really get the opportunity to impact lives, but I have, and this will be my legacy."
Create Your IWU Legacy
You can make a real difference in the lives of students—and inspire others to follow your lead—through a gift to IWU from your IRA or in your estate plan. Contact Steve Seibring '81 at 309-556-3135 or [email protected] or Jordan Fish, CFP® at 309-556-3861 or [email protected] to discuss your giving options.