A Win-Win Way to Give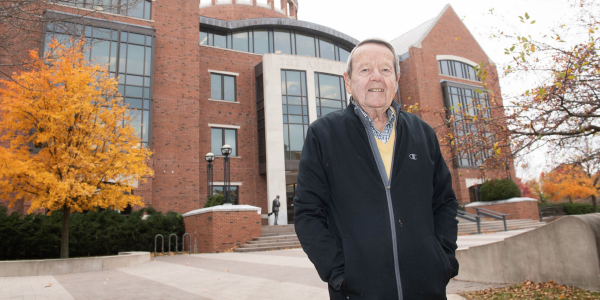 In a recent communication with Illinois Wesleyan University's Advancement Office, Carl Behr '47 scribbled a note in the corner of his written response:
" How much is that annuity up to?" he asked.
Behr established a charitable gift annuity with Illinois Wesleyan in 2005. The annuity pays him a fixed amount each month while it matures under Illinois Wesleyan's stewardship. Behr likes to see his money at work, and he occasionally checks to see how his annuity is growing.
"I'm getting a check every month, and at the same time, the annuity will provide an education to help young people," he said. "It's a win-win for everybody."
When determining the best way to give back to his alma mater, Behr decided a charitable gift annuity made the most sense. His annuity allows him to support IWU, while providing him a fixed income during his retirement years. Annuities can be established with cash, securities, stock, real estate or other property, and those establishing annuities may qualify for tax benefits.
"It's based upon the theory of compounding interest, and it's an insurance policy as well," Behr says. "It's a huge benefit to the beneficiaries and to the donor."
Behr's annuity will support scholarships in Illinois Wesleyan's School of Nursing. Meeting the scholarship recipient financed by his annuity at the annual Scholarship Benefactor Dinner has only strengthened his wish to provide students with opportunities.
And that's why he takes pleasure in seeing his annuity grow.
"It's a wonderful way of giving back," Behr says. "Getting to know the beneficiaries who usually say, ' I wouldn't be here if it wasn't for you.'...well, that makes you feel pretty good."
To learn more about supporting IWU with a charitable gift annuity, or other planned gift, contact Steve Seibring '81 at 309-556-3135 or sseibrin@iwu.edu.