First-Generation Grad Gives Back to Illinois Wesleyan as Expression of Gratitude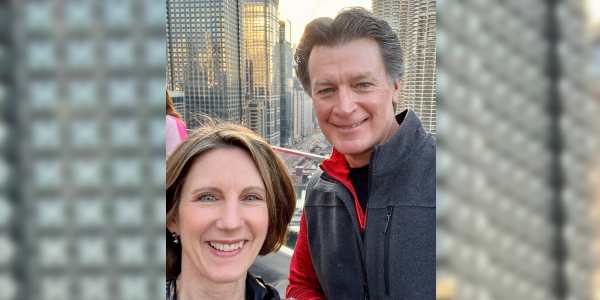 From a single-parent household in a small, historic Swedish community of Bishop Hill, Illinois, Greg Dowell '81 was the first in his family to attend a four-year college. He was looking for a strong community where he could easily make connections, and he found it, along with his future wife, Emily Blank '82, at Illinois Wesleyan.
"It was easy to get involved and make friends at Wesleyan, and I met Emily my junior year," Dowell said. "I didn't want to get lost in a big school, and that's what took me to Wesleyan, but I stayed because of the personal relationships and the emphasis on a liberal arts education."
A hard worker, Dowell spent every summer working to afford his tuitiontaking on jobs that ranged from handling livestock, baling hay, construction and even working in a factory pouring iron in a foundryas well as working jobs on campus and extended internships. That strong work ethic, along with the generosity of scholarships, allowed him to graduate with no student loan debt.
"It was an amazing thing as someone who came here without any kind of finances supporting him," Dowell said.
After graduating from IWU, Dowell worked as a certified public accountant and helped facilitate stock gifts from high net-worth families to the charities and nonprofit organizations that they supported. Those families were able to maximize their charitable giving without being subject to capital gains taxes that can now approach 20%.
"Over the years, the financial system has been democratized and now virtually anyone has those same advantages," Dowell said.
Lifelong donors themselves, the Dowells officially endowed a scholarship at IWU in 2021 through appreciated securities, giving back those same opportunities they earned at college to the next generation of Titans.
"As a student, the scholarships were an influence; it showed that people believed in me and wanted to give a kid a chance," Dowell said of the scholarships that helped him at IWU. "That's the reason Emily and I wanted to start this scholarship: our profound gratitude."
Discover some of the many ways you, like the Dowells, can create a legacy and change lives at IWU. Contact Steve Seibring '81 at 309-556-3135 or sseibrin@iwu.edu today.