A Way to Be Remembered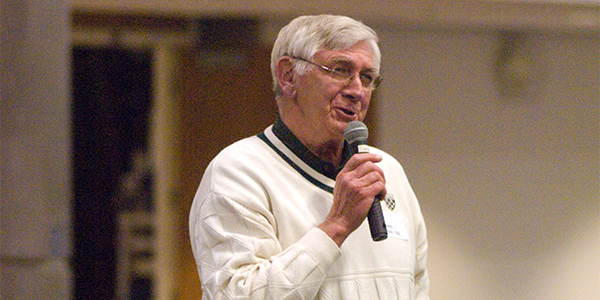 The most fitting tribute to a lifelong educator, friends of Glen Newton '56 decided, was to provide the gift of education to young, deserving students who needed a little help.
The Glen and Shirley Newton Scholarship was established shortly after Glen Newton's passing in 2014 by a group of friends and colleagues. Glen '56 and Shirley (Trump) Newton '57 were longtime supporters of their alma mater and believed strongly in the value of an IWU education.
Retired IWU Dean of Students Glenn Swichtenberg spearheaded efforts to fund the scholarship. He graduated from Illinois State Normal University the same year Glen earned his degree from IWU, and the two became fast friends working in the Bloomington, Illinois, school district. Swichtenberg and Roger Cavitt '59 rallied support for the scholarship as a way of paying homage to their friend "Newt."
"He was a supporter of good education and he loved kids," Swichtenberg explains. "That's what it was all about."
Established in 2015, the Glen and Shirley Newton Scholarship is awarded annually to a sophomore, junior or senior with identified financial need.
"The scholarship was a way to honor Newt and who he was and what he stood for," Swichtenberg says. "It was a way for Newt and Shirley to be remembered at the University that helped them get started.
"When you pass on, one of the greatest things that can happen is to still be remembered. And I know Newt will be remembered not only by the people that he worked with, or by his classmates at IllinoisWesleyan, but by all those whose lives he touched."
A gift from your estate is an easy way to remember loved ones, like Newt and Shirley. If you'd like to learn more, contact Steve Seibring '81 at 309-556-3135 or sseibrin@iwu.edu.