Representing Illinois Wesleyan Abroad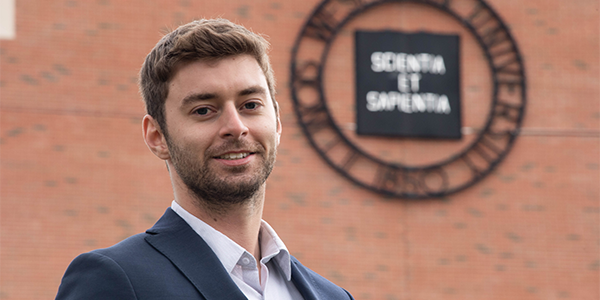 Sean O'Carroll '18 will represent Illinois Wesleyan University as a J. William Fulbright English Teaching Assistant in Malaysia next year.
O'Carroll will leave for Malaysia in January 2019 and, after a three-week orientation, he will spend 10 months teaching English in a rural Malaysian high school.
"Anything that I can do to help the students learn English or learn more about America is part of my job," O'Carroll says. "Because the Fulbright Program is funded through the U.S. Department of State, I'm a representative of the United States government while I'm over there. And, I need to do as much as I can to help out, because that's the whole mission of Fulbright."
O'Carroll gained international business experiences through the IWU Freeman Asia Internship Program. Shortly after completing a semester-long study abroad program in Milan, Italy, O'Carroll spent a summer as a Freeman Asia intern with the Mizuno Corporation, a Japanese sports equipment and sportswear company led by President and CEO Akito Mizuno, a 1974 Illinois Wesleyan alum.
"It really opened my perspective in the business world," O'Carroll says of his Mizuno internship.
After completing the Fulbright Program, O'Carroll hopes to continue traveling the world as a freelance videographer, and he suspects that his time in Malaysia will solidify his international career aspirations.
The Fulbright Program is the flagship international educational exchange program sponsored by the U.S. government and is designed to build lasting connections between the people of the United States and the people of other countries.
You can help Illinois Wesleyan students achieve their dreams, like Sean. To learn more about ways you can support IWU's future, please contact Steve Seibring '81 at 309-556-3135 or sseibrin@iwu.edu.