Power In Community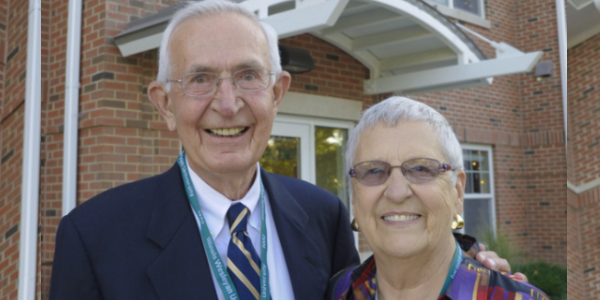 For Illinois Wesleyan alumnus Howard Fricke '60, there is tremendous power in communities that come together for the greater good.
"If we rely on them, they aren't going to change anything," he said. "We have to make it happen."
That life-long mantra took shape as he thought about all the people who helped him along the way. He was able to attend Illinois Wesleyan because of the GI Bill; without it, he wouldn't have been able to afford college. He was able to develop personal relationships with his professors, who helped him secure summer internships at State Farm and his first job in Springfield, Ill.; without them, he may not have gone on to become Chairman, President and CEO of Security Benefit.
"Virtually every instructor had a personal interest in helping me succeed," Howard said.
And he decided to pay that forward. While running Security Benefit, Howard allowed his employees paid time off to volunteer at the Red Cross, United Way, and other charitable organizations. With that freedom, he found that his employees gave back twice as much both to the community and to the company. Both Fortune and Working Mother magazines selected Security Benefit Group as one of the 100 best companies to work for in America.
"Have trust in people," Howard said. "It didn't matter that I was Chairman, President, and CEO; Fred ran the mailroom better than I could have ever done. I needed Fred, and Fred needed me. We're in this together."
Howard never forgot the personalized and well-rounded education he got from Illinois Wesleyan, and his Titan roots extend deep in the Fricke family: Howard's wife, Sharon '60; son, David '85; daughter, Karen '81; and grandson, Brandon '18, all attended Illinois Wesleyan.
When it was time to think about Wesleyan's greater good, Howard used a Charitable Gift Annuity, which both secured Howard a life-long guaranteed income while also impacting thousands of IWU students, including those who live at Fricke Hall, which bears his name.
"Fortunately, I could afford to send my kids and grandkids to college. Others are not so fortunate," he said. "If I can help someone else, that's what life is all about."